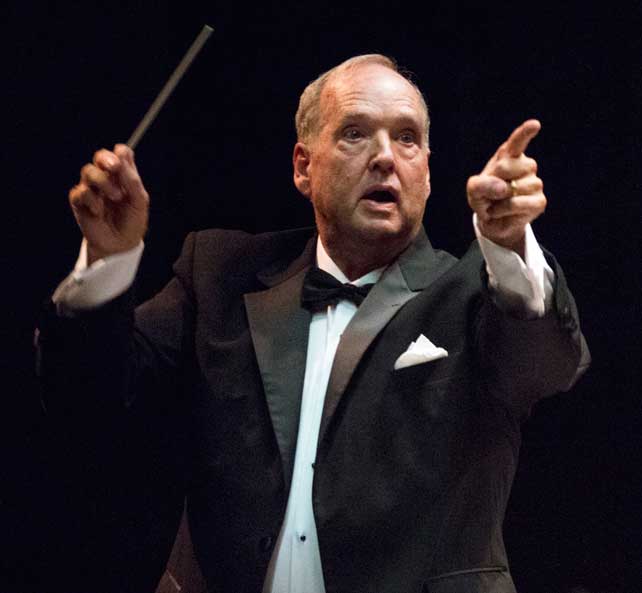 For four seasons, Bob has been the assistant conductor of the North Port Concert Band. He has played the euphonium in the Venice Concert Band for eleven years and the North Port Concert Band for six years. This past year he has been the conductor of the First Brass of Sarasota.
Bob developed his love of conducting while in high school when he was given the opportunity to conduct some of his band's rehearsals and concerts. This was a transformative experience for him. He knew he could relate to music in an emotional way and that he wanted to e a conductor the rest of his life.
Bob received his Bachelor of Science Degree in Music Education from Susquehanna University in Pennsylvania. He earned his Masters Degree in Music History and Literature and his Music Supervisor's Certification from Temple University in Philadelphia. Bob is retired from teaching instrumental and choral music in the Abington School District in suburban Philadelphia. He has performed in community theaters in the Philadelphia area as well as Venice Theater. Each summer he escorts high school musicians on a European cultural and performance tour with an organization called American Music Abroad. He and his wife, Carolyn, have been married 48 years and live in Nokomis. Bob enjoys golf, bridge, cooking, traveling, and, of course, music.
Bob looks forward to programming concerts from the wealth of American music ranging from American folk music, to Broadway stage, to music composed for concert bands, as well as transcriptions of international composers. Alessandro Sicillani, former music director of Columbus Symphony Orchestra, has said, "The conductor must create a magical atmosphere and be able to transmit all the composer's infinite messages, desires, and hopes." Bob feels he can do that with the Charlotte County Community Band.