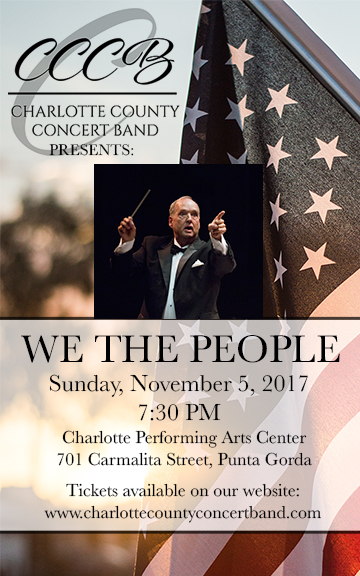 The Charlotte County Concert Band Presents:
"We The People"
On Sunday, November 5, at 7:30 PM the Charlotte County Concert Band opens their 2017 – 2018 concert season with their program entitled "We The People."  This season the Charlotte County Concert Band will be performing in the Charlotte Performing Arts Center in Punta Gorda. The band will perform selections designed to make everyone feel proud to be an American. Beginning with the Henry Fillmore march, "Americans We," to "The Stars and Stripes Forever," to the concluding song, "God Bless America," the audience will be treated to patriotic music from many generations. You will hear "Star-Spangled Salute" featuring "Yankee Doodle Boy," "Over There," and "You're a Grand Old Flag." The band will perform a Charles Carter composition entitled "An American Legacy No.1" which includes the great American folk songs "The Yellow Rose of Texas," "Shenandoah," "Erie Canal," and "When the Saints go Marching In." The concert will also feature old time favorites from the Glenn Miller library in the medley "Glenn Miller In Concert." Sit back and enjoy "In the Mood," "Tuxedo Junction," "A String of Pearls," Little Brown Jug," and
"Pennsylvania 6-5000." One of the highlights of any patriotic concert is a tribute to our veterans, the ones who have preserved all the freedoms that we enjoy today. If you are a veteran, please join us for this special recognition of your service to our country.

The concert will also feature members of the Good Shepard Episcopal choir, under the direction of Candice Fader, as they perform "Mansions of the Lord." As the concert draws to its conclusion, you will be treated to a performance of "Rushmore," a composition written in 1980 by the internationally renown, American composer, Dr. Alfred Reed. This work combines Dr. Reed's original material with strains from "America The Beautiful."

Please join us for a wonderful afternoon of patriotic selections on Sunday,
November 5 at 7:30 PM in the Charlotte Performing Arts Center on the campus of
Charlotte High School. The high school is located at 701 Carmalita Street, Punta
Gorda, 33950.